The basic reason why we were supposed to wait with bringing Scarlett home to Sam was because she was supposed to get neutered as well as vaccinated. On Wednesday, Scarlett's breeder told us the vet couldn't operate on a kitten who got her vaccination package less than a month ago. And so, we waited no more; we signed a paper that we'll neuter Scarlett by the time she's eight months old, and took her home!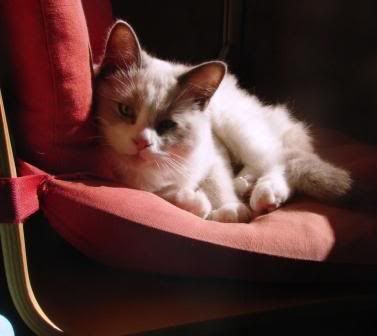 Her first night she spent in my room, curled up in front of my face and waking me up with purrs and demands whenever I dared flip in my bed...she even hurled herself sideways on my face once to get attention. Then she played excavators in her cat sand...I didn't get much sleep that night.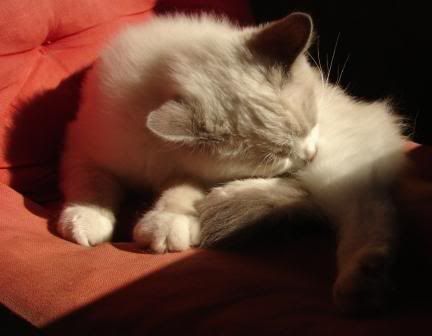 Isn't she a beauty? She's a lot more daring than Sam and jumps all over places (which Sam still can't, I have no idea why...) though whenever she find herself in a room alone she starts meowing miserably. Perhaps she's just used to always being in a room with people and other cats; she grew up with her brother, mother, father, half-brother and another breeding female. Oh well
Sam, curled up and sleeping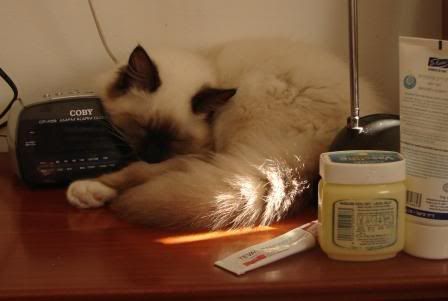 Now, despite careful planning, we let them loose together yesturday which didn't prove at all as a desaster. Yesturday the ineraction between the two mostly included Sam stalking Scarlett in a hunting fashion until Scarlett would turn around, give him a glare, and bristle a bit, which made him calm down bashfully.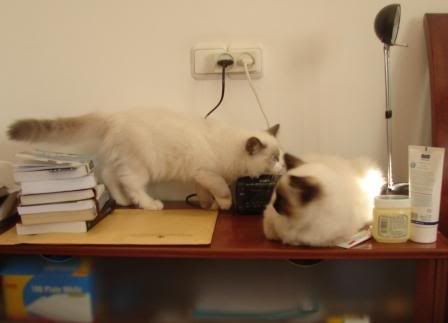 Today she surprised him with a nose kiss, which he later returned (awwwww >.<) but they're still very sheepish and bashful around each other. They're very much like a couple of forth graders with an "ewwwwww, girls/boys are yucky!" but they're warming up to each other. Scarlett's usually the initiator because she has experience with boys, while the Sam knows very little about how to handle the ladies (save for letting them have their ways with everything).
Meeting in a sunbeam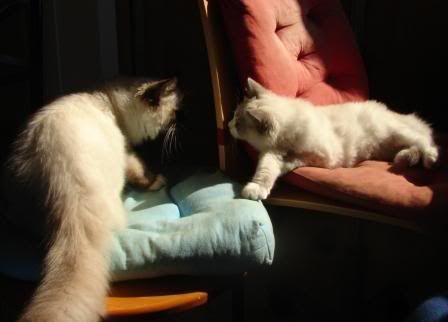 Two cats, again, we have two cats! That's such a joy >.<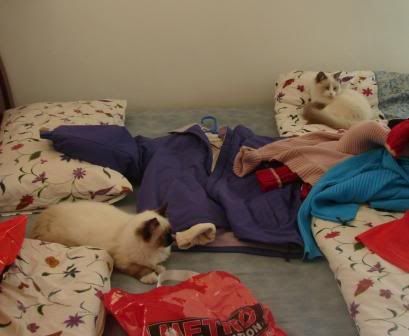 The lovely lady